It's been a strange year.
At the end of last year I said goodbye to my costume design time on Doctor Who and stepped back into the freelance world after being in charge of the costumes and creature designs throughout the Covid lockdowns and through series 13 and the subsequent three Specials.
At first I thought I wanted to take on a huge production but soon got tired of the chat about wether I was experienced enough or if an American should design it. I had tentatively agreed to do Wolf for Hartswood and the scripts were good, the people lovely and the premise of the series is unusual and original, so I agreed to do Wolf and banished thoughts of doing a show which I could run a workroom on and encourage the creativity of assistant designers.
I think it was the right decision.
Wolf has been interesting and I'm glad I stepped into that role.
This means I have completely forgotten what I did last year on the DW Centenary Special and I need to go through photos and fitting information so I can answer the inevitable design questions when they come as we get closer to transmission.
I am still going through the mourning period, missing Who, I've been through this before and it's an interesting process, it's not easy and I sometimes feel like hiding away and closing the door on that work because it tends to define me in the eyes of others.
My experience as a designer is varied and not limited to quirky science fiction programmes.
I am back on the freelance market and about to go through the 'meetings' process again. I think this time I need to really know what I would like to do and I have a fair idea. I will always do the thing that comes along and speaks to me through the script. It doesn't matter if it's low budget, middle or high budget, if the script is good and the producers are kind, organised and creative and it speaks to me, that's the thing I will do. There will be things I want to do and they won't be interested in me but equally I hope that one job comes along that excites me and tells a great story. Let's hope it comes soon and I also get to have a rest, it may take a little while to get the right thing
I will be moving forward and trying to work in a sustainable, ethical and diverse way, using my collection of costumes, kit, jewellery and research, also recycling plastics and donating any surplus costumes to charity. My costume store is looking good and I'm really happy that I have invested in this, it's a good use of equipment for the future.
Watch this space, it could be a film or a streaming series or a new series for the traditional broadcasters, I hope the future is good. See the pics of my store below and let's hope the right thing gets here soon.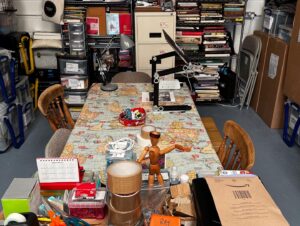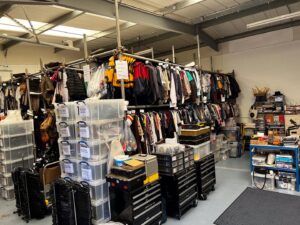 and next to broadcast is