In 1981 I bought an antique table cloth in Jacobs Market Cardiff. It had embroidery on it and was dated 1917. We used to live in a Victorian house and used the tablecloth occasionally but moved to a 1950's house 15 years ago and suddenly this table cloth just sat in the textiles chest.
Recently I found it again and it had become more delicate than it used to be and I got worried because of what was embroidered onto it. So I asked Elin Phillips at St Fagans Museum of Welsh Life if she would like to see it. They took a look and it was very exciting because we think the cloth was used as a therapy cloth by a matron in a Cardiff hospital, she treated and cared for WW1 soldiers and they all wrote their name, rank, regiment and country on this cloth and then each different soldier embroidered it over.
There are Americans, British, Welsh and Japanese signatures on there and its a small insight into the past, the embroideries were done over a period of a couple of years and St Fagans Museum of Welsh Life will now restore the cloth and research it and hopefully eventually display it and write a pamphlet about it. It's interesting as a piece of textile that covers furniture, as a textile in its own right and as a therapy cloth used by a hospital in WW1. So I met three lovely women at St Fagans who all had an interest in the cloth and reassured me that I hadn't left it too long for it to be restored and researched.
I'm absolutely thrilled to have donated a piece of Welsh social history to the museum, and really looking forward to hearing what they find out about it. We think that the matron has already been found in the Cardiff Census records for the period and it was made in what is now Whitchurch hospital,  but it used to be Cardiff Hospital, the matron was originally from Pembrokeshire and you can see her name on the photograph of the cloth corner.
http://www.museumwales.ac.uk/stfagans/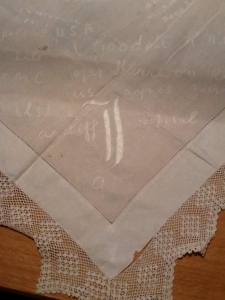 Rob Davis did some census research on Matron Raynes and so far has found the following:-
Florence Emily Raynes was born in St Michael's, Pembrokeshire in 1880 and is on the 1881 census with her parents George and Lisa Jane Raynes.
On the 1891 census she is still with her parents in St Michael's Pembrokeshire.
On the 1901 census she is a nurse at the Norfolk County Asylum, Thorpe St Andrew, Norwich.
On the 1911 census she is Matron at Cardiff Hospital, Whitchurch. The entry says "Cardiff Mental Hospital", single.
Possibly the hospital where soldiers with shell shock went for treatment.
Florence Emily Raynes was married in Cardiff in 1919 to Thomas McClean. Her death date may have been found but we need to double check it really is the right person.
The Whitchurch Hospital historical society has a photograph of Matron Raynes which they will pass onto St Fagans textile department. Also, St Fagans are making a list of all the names embroidered onto the cloth and passing it over to me, so that we can all start that part of the research.
Some of the names on the cloth are hard to decipher, but this is what Elin at St Fagans can work out so far.
Pte [Private] E. C. Liles
Pte J Keppel 1st Royal Munsters
Pte E. T. Friar A.S.C M.T
Lieut. Braddock USA
J. Drummond
W Jones 4th Worcesters
Dr H Thorps RFA
E. W. Ilford
D Kozroski 4th (?)G M. Rifles
Corp J. Cork 2nd Grenadier Guards
Pte F. Astin (?)5th Staffs
Pte S. Bradshaw 1st Lancs JVS
O. Standish 4th KOYL
S. Walker RFA
Pte Howard 24th HF
H. Bentley 11th Cheshire
Pte E. Sheffield 7th Kings Own
Pte J [can't decipher surname) 2nd Royal Sussex
L/cpl. F. Richardson 8th Lincolns
G. E. Head 2nd Middlesex
(?)Selfield 1st Coldstram Guards
Pte J. F. Davies RAMC
(?)W. Cooper 14th Northumberland Fusiliers
There is also some Chinese or Japanese embroidery on it as well.